The 2014 season starts with a BANG! in March with 6 National Memory Championships. All are welcome including first timers and seasoned competitors
6th Slovenian Open
2nd Italian Open
2nd Mongolian
6th Welsh Open
17th USA Championships
3rd Algerian Open
more details on upcoming Championships
---
Jonas von Essen crowned as 2013 World Memory Champion
The World Memory Championships have now finished with Sweden's Jonas von Essen being crowned as the new World Memory Champion with 8534 Championships points. The competition took place over the three days of Saturday November 30th to Monday December 2nd in the Croydon Conference Centre,  Croydon, South London. Former World Memory Champion Johannes Mallow won Silver Medal with 8022 and the Bronze was won by Christian Schafer IGM with 6980
Watch competition videos – see the links on the NEWS PAGE
 To view all the scores by points click here  - FINAL SCORES and RANKINGS
To view the rankings by Country - Country Rankings
To view a slideshow of pictures from the Championships – click here
To order photographs from the Official Photographer click here
A record 32 countries and 120 Mental Athletes and Arbiters arrived in Croydon for the 22nd World Memory Championships. These include Canada, Indonesia,  Ireland,  Lithuania,  Norway,  Pakistan,  Slovakia,  Spain, Turkey, Ukraine,  Wales,  Finland,  Vietnam,  Denmark,  Hong Kong,  Uzbekistan,  South Korea,  Italy,  Japan, Algeria, Poland,  USA,  India,  Mongolia, Sweden,   China, Philippines,  Germany – including World Memory Champion Johannes Mallow, and the host country England.
On Friday 29th of November, the day before the Championships, the Mayor of Croydon, Councillor Yvette Hopley accompanied by Matthew Sims, Chief Executive of Croydon Business Improvement District (BID) Ltd,  invited all the competitors and Arbiters to the Council Chamber of Croydon Town Hall for our Opening Flag Ceremony.  VIP Guests also included  Dominic OBrien (eight times World Memory Champion), Phil Chambers (Chief Arbiter) and joint founder Raymond Keene OBE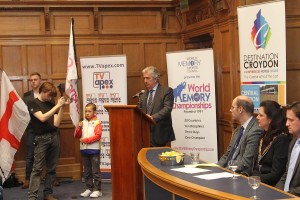 Each country nominated a Flag Bearer to lead their team and present them to the Mayor who gave each everyone a gift of a Crocus – the flower historically associated with the town.
The competition commenced at 9.30am on Saturday November 30th with a speech from the founder of the Mind Sport of Memory, Tony Buzan.
On Day One of the Championships, there are three memory disciplines – Names and Faces, Binary Numbers and One hour Numbers.  All the results will be published shortly on this site.
Full WMC Competition Schedule and Map
So what drives competitors to pay to travel from the furthest points of the globe to compete, even when there is no prize money? Why would they put themselves through such an exhausting and intensive three days of memorisation and recall? Because the sport is practiced in exactly the same way around the world, and is always independently arbited, it has been possible to have a World Ranking table where competitors can compare their performance with the best in the world over the past two decades. The competitor who obtains the best cumulative score over the ten disciplines of the competition can justifiably be crowned as the World Memory Champion.

The World Memory Championships 2014 will take place on the 11th,12th and 13th of December with the Closing Ceremony taking place on the 14th. Competitors are invited to arrive on December 9th and depart  after 2:30pm on December 15th.